The Seventh Day of the Month of August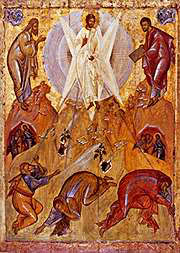 Troparion of the Feast Tone 7
Thou wast transfigured on the mount, O Christ God,/ revealing Thy glory to Thy disciples as far as they could bear it./ Let Thine everlasting light shine upon us sinners/ through the prayers of the Theotokos, O Giver of Light, glory to Thee.
Troparion of St. Dometios Tone 4
After disciplining thyself with prayer and fasting on the mountain,/ thou didst destroy the hosts of spiritual enemies with the weapon of the Cross./ Thou didst bravely arm thyself again for martyrdom/ and wast crowned both for thy life and for thy death,/ O blessed Hieromartyr Dometios.
Kontakion of the Feast Tone 7
Thou wast transfigured on the mountain, O Christ our God,/ and Thy disciples beheld Thy glory as far as they were capable,/ that when they should see Thee crucified,/ they might know that Thy suffering was voluntary/ and might proclaim to the world/ that Thou art indeed the reflection of the Father.
Kontakion of St. Dometios Tone 6
Thou didst rise above earthly things which drag down the mind,/ thou wast a great guide of monks, O Dometios./ Thou didst not fear the furious emperor/ who would not honour God./ Therefore O Hieromartyr, thou didst die chanting the hymn:/ "God is with me and no one is against me."
---
---
Back to Menologia