The Thirteenth Day of the Month of August
Troparion of the Feast Tone 7
Thou wast transfigured on the mount, O Christ God,/ revealing Thy glory to Thy disciples as far as they could bear it./ Let Thine everlasting light shine upon us sinners/ through the prayers of the Theotokos, O Giver of Light, glory to Thee.
Troparion of St. Maximos Tone 3
By an outpouring of the Holy Spirit/ thou didst pour forth Christ's sacred teachings./ Thou didst expound with divine authority the self-emptying of God the Word/ and wast radiant in thy confession of the True Faith./ Glorious Father Maximos, pray to Christ our God to grant us His great mercy.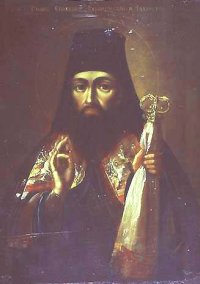 Troparion of St. Tikhon Tone 8
From thy youth thou didst love Christ, O blessed one/ and wast a model in word, life, love, spirit, faith and humility./ Now thou art dwelling in the heavenly mansions where thou dost stand before the throne of the Most Holy Trinity./ Holy Father Tikhon, pray that our souls may be saved.
Kontakion of the Feast Tone 7
Thou wast transfigured on the mountain, O Christ our God,/ and Thy disciples beheld Thy glory as far as they were capable,/ that when they should see Thee crucified,/ they might know that Thy suffering was voluntary/ and might proclaim to the world/ that Thou art indeed the reflection of the Father.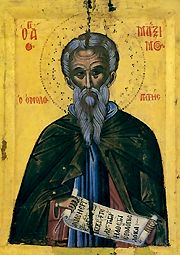 Kontakion of St. Maximos Tone 2
O Maximos divinely inspired champion of the Church,/ sure and illumined exponent of Orthodoxy,/ thou harp and trumpet of godliness,/ divine and holy adornment of monks:/ cease not to intercede for us all.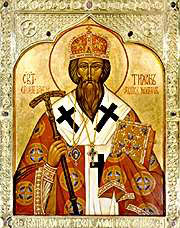 Kontakion of St. Tikhon Tone 8
O successor of the Apostles, adornment of Hierarchs and teacher of the Orthodox Church:/ pray to the Lord of all that He grant peace to the world and great mercy to our souls.
---
---
Back to Menologia