The Fourth Day of the Month of January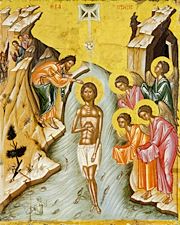 Troparion of the Forefeast Tone 4
Make ready, O Zebulon, and prepare thyself, Nephthali./ River Jordan, stop flowing and leap for joy at the Lord's coming for Baptism./ Rejoice, O Adam, with our first mother;/ hide not yourself as in Paradise of old./ For seeing us naked He has appeared,/ to clothe us with our first garment./ Christ has appeared, to renew the whole of creation.
Troparion of the Seventy Apostles Tone 3
With the use of divine faith you caught the nations,/ O Seventy Apostles of the Lord;/ and you lead them into the knowledge of God/ as those who had received the grace of the Spirit./ O inspired initiates,/ intercede with Christ our God/ that He grant us His great mercy.
Troparion of St. Theoctistos of Sicily Tone 3
By righteous works thou didst attain to a life pleasing to God/ and became His royal habitation./ And Christ the Friend of mankind has accepted thy labours/ and shown thee forth as a guide of monks./ Intercede with Him for those who cry:/ Rejoice, O godly-minded Theoctistos.
Kontakion of the Forefeast Tone 4
The Lord cried to John in the running waters of Jordan:/ Be not afraid to baptize Me,/ for I have come to save Adam, the first-formed man .
Kontakion of the Seventy Apostles Tone 2
Let us praise the choirs of Christ's Seventy Disciples, O faithful,/ and celebrate their festival./ They have taught us to worship the Undivided Trinity;/ for they are divine lamps of the Faith.
Kontakion of St. Theoctistos of Sicily Tone 4
Thou didst rise like the sun from the west/ and gladden Christ's Church mystically by thy labours,/ O blessed and righteous Father Theoctistos.
---
---
Back to Menologia