The Seventh Day of the Month of September
Troparion of the Forefeast Tone 4
From the root of Jesse and from David's loins/ the divine maiden Mary is born for us today,/ and all things are filled with God and renewed./ Rejoice together, heaven and earth!/ Praise her, you countries of the nations!/ Joachim rejoices and Anna keeps festival, crying:/ The barren woman gives birth to the Mother of God and the nurse of our life.
Troparion of St. Sozon Tone 1
O Martyr Sozon, thou didst pledge thy life to God,/ endure the contest and become a sharer in Christ's Passion./ Save from temptation those who cry to thee:/ Glory to Him Who strengthened thee;/ Glory to Him Who crowned thee;/ glory to Him Who through thee works healings for all.
Troparion of St. John Tone 8
Great Novgorod rejoices over thy relics today, O holy Hierarch John./ For they shine as the sun and grant healing to all who venerate thy shrine with faith./ Entreat Christ our God to deliver this city from captivity, from civil war and fire,/ O wise wonderworker, heavenly man and earthly angel,/ that we may hymn thee and glorify our God.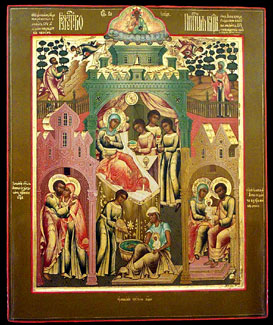 Kontakion of the Forefeast Tone 3
Today the bridal chamber of the heavenly Bridegroom,/ Mary the Virgin Mother of God,/ by God's will is born of a barren woman,/ and the chariot of the Word of God/ is beautifully adorned./ She is the gate and the Mother of life:/ for this God chose her.
Kontakion of St. Sozon Tone 2
Together let us praise with loud voices/ Sozon the Athlete of piety,/ vessel of grace and bestower of healings./ He prays to God for us all.
Kontakion of St. John Tone 4
Today the Church rejoices remembering holy Hierarch John/ who shines forth in virtue from Novgorod the Great./ Now as his incorrupt body pours forth miracles/ we cry to him: O most blessed one,/ pray to Christ our God for us all.
---
---
Back to Menologia