The Twenty-Second Day of the Month of September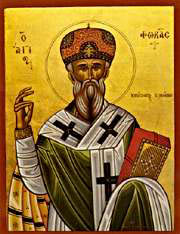 Troparion of St. Phocas Tone 4
Radiant vessel of the Spirit from thy youth,/ thou wast enriched with the gift of miracles;/ thou didst serve thy Savior in the priestly office/ and drink of His cup in thy contest./ Holy Hieromartyr Phocas, entreat Him to Save our souls.
Kontakion of St. Phocas Tone 2
The Master has set thee as a brilliant sun/ shining on all the faithful./ He has accepted thy life, faith and contest as myrrh,/ O glorious Martyr Phocas,/ for He is rich in mercy. 22-28
SATURDAY AFTER THE LEAVETAKING OF THE FEAST OF THE ELEVATION OF THE PRECIOUS CROSS: SYNAXIS OF THE RIGHTEOUS FATHERS OF THE NEAR KIEVAN CAVES
Troparion Tone 4
We bring to Thee in prayer, O Christ, great Anthony and the assembly of the God-bearing Fathers;/ they are a fiery Pillar and a brilliant sun shining from the Kievan Caves./ By their prayers grant grace to our monastery and great mercy to our souls.
Kontakion Tone 2
Let us honour with praises the ascetic choir/ as we behold them with our minds and in spirit./ As we venerate their relics, let us bring gifts of love,/ for they pray to God for our souls.
---
---
Back to Menologia