The Twenty-First Day of the Month of September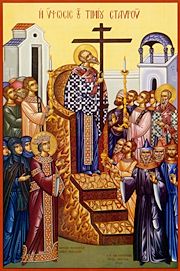 Troparion of the Feast Tone 1
O Lord, save Thy people/ and bless Thine inheritance./ Grant Victory over their enemies to Orthodox Christians,/ and protect Thy people with Thy Cross.
Troparion of St. Quadratus Tone 1
Thy life became radiant with wisdom; thou didst draw down the fire of the Spirit/ and discern the doctrines of life,/ Quadratus, Apostle of Christ./ We cry to thee as to an enlightener:/ Glory to Christ Who has glorified thee; glory to Him Who has crowned thee:/ glory to Him Who through thee works healings for all.
Kontakion of the Feast Tone 4
O Christ our God/ Who wast voluntarily lifted up on the Cross,/ grant Thy mercies to Thy new people named after Thee./ Gladden with Thy power Orthodox Christians/ and give them victory over their enemies./ May they have as an ally/ that invincible trophy, Thy weapon of peace.
Kontakion of St. Quadratus Tone 8
O Lord, the world offers to Thee the Apostle Quadratus as a holy Hierarch and Martyr./ As we hymn his memory we pray Thee/ to grant forgiveness to those who sing: Alleluia.
Kontakion of St. Mabyn Tone 8
Preserving thyself in virginity, and pleasing Christ our God with thy asceticism, O holy Mabyn,/ thou didst give to the faithful an example of pious and godly living./ Pray that the example of our lives will also be pleasing to God,/ that our souls will be brought into the Way of Salvation.
---
---
Back to Menologia