The Eighth Day of the Month of August
Troparion of the Feast Tone 7
Thou wast transfigured on the mount, O Christ God,/ revealing Thy glory to Thy disciples as far as they could bear it./ Let Thine everlasting light shine upon us sinners/ through the prayers of the Theotokos, O Giver of Light, glory to Thee.
Troparion of St. Emilian Tone 3
In confessing the Faith thou didst proclaim the doctrines of Orthodoxy/ and wast unjustly exiled for rebuking the wicked king./ O righteous and glorious Emilian/ who art the boast of Cyzicos,/ pray to Christ our God to grant us His great mercy.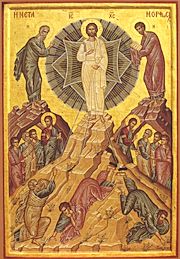 Kontakion of the Feast Tone 7
Thou wast transfigured on the mountain, O Christ our God,/ and Thy disciples beheld Thy glory as far as they were capable,/ that when they should see Thee crucified,/ they might know that Thy suffering was voluntary/ and might proclaim to the world/ that Thou art indeed the reflection of the Father.
Kontakion of St. Emilian Tone 3
The Church for which thou didst suffer, O Emilian,/ hymns and glorifies thee./ For thou wast a champion of the Trinity,/ and so we venerate thy memory./ Deliver thy servants from all assaults of the enemy.
---
---
Back to Menologia