The Fifth Day of the Month of August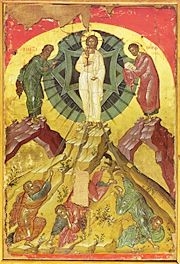 Troparion of the Forefeast Tone 4
Come, you faithful, let us welcome the Transfiguration of Christ/ and let us joyfully cry as we celebrate the forefeast:/ The Fifth Day of holy gladness has come./ The Lord has ascended Mount Tabor/ to radiate the beauty of His Divinity.
Troparion of St. Evsignios Tone 4
Thou wast filled with the faith of Christ,/ and in old age possessed a godly, youthful firmness./ Thou didst confess God the Word as transcendent in Essence/ and didst boldly rebuke the apostate's audacity./ Wherefore thou art glorified with the martyrs, O Evsignios, soldier of Christ.
Kontakion of the Forefeast Tone 4
All mortal nature is shining today with the divine Transfiguration/ and is crying with exultation:/ Christ the Savior of all is transfigured.
Kontakion of St. Evsignios Tone 8
Today the Church glorifies the holy contests of wise Evsignios, the witness of godliness/ and she cries unceasingly: Preserve Thy servants by his intercessions, O most Merciful One.
---
---
Back to Menologia