The Fourth Day of the Month of August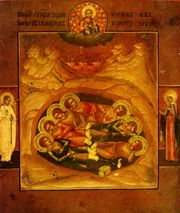 Troparion of the holy Youths Tone 4
O miracle of faith! The seven holy youths remained in a cave/ as though in a royal palace and died without corruption./ After many years they rose up from sleep/ to convince all men of the Resurrection./ Through their prayers, O Christ our God, have mercy on us all.
Troparion of St. Lugid Tone 4
Renowned for thy virtuous life/ and thy zeal as a founder of monasteries,/ pray O Father Lugid, that God will raise up monastics in our day/ to instruct and guide the faithful in their struggles/ that many souls may be saved.
Kontakion of the holy Youths Tone 4
They forsook the things of the world as corrupt;/ they received the gifts of incorruption and remained in death without corruption./ They arose after many years/ having buried their enemies' unbelief./ Today as we praise these seven holy youths let us give glory to Christ.
---
---
Back to Menologia