The Twenty-First Day of the Month of August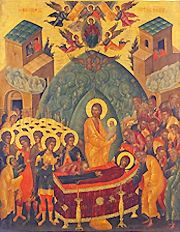 Troparion of the Feast Tone 1
In giving birth thou didst preserve thy virginity;/ in falling asleep thou didst not forsake the world, O Theotokos./ Thou wast translated to life, O Mother of Life,/ and by your prayers you deliver our souls from death.
Troparion of the Apostle Thaddeus Tone 4
O holy disciple and witness to God/ who appeared in the flesh for our sakes,/ thou didst bring the light of saving grace to those in darkness,/ thou wast revealed as an excellent physician to the people of Edessa./ Wherefore shelter those who fervently seek thee.
Troparion of St. Vassa Tone 1
Thou wast a mother of fair children, O trophy-bearer Vassa;/ thou didst bring to the Trinity the fruits of thy womb:/ at thy word Theognios, Pistos and Agapios bravely contested and with thee partake of glory./ Save those who cry to thee;/ Glory to Him Who has crowned thee; glory to Him Who has glorified thee;/ glory to Him Who through thee works healings for all.
Kontakion of the Feast Tone 2
Neither the tomb nor death could hold the Theotokos,/ who is sleepless in her intercessions and an unchanging hope in her mediations./ For as the Mother of Life she was transferred to life/ by Him Who dwelt in her ever-virgin womb.
Kontakion of the Apostle Thaddeus Tone 4
The Church has acquired thee as a star, O Thaddeus, / and is ever enlightened by thy miracles. / Save those who faithfully venerate thy memory.
Kontakion of St. Vassa Tone 8
Thou didst follow in the footsteps of Solomone, mother of the Maccabee children,/ and didst encourage thy three sons to endure the martyrs' contest./ Now thou hast passed beyond the afflictions of this life:/ deliver us from temptations for we cry to thee:/ Rejoice, O much-suffering Martyr Vassa.
---
---
Back to Menologia