The Ninth Day of the Month of June
Troparion of St. Cyril of Alexandria Tone 1
With all reverence let us praise the light of the world,/ the great orator and champion of the Mother of God;/ for by his fiery teachings he burned the heresy of Nestorius./ Wherefore let us cry to him:/ O divine Cyril, intercede with Christ/ to strengthen the Orthodox faith.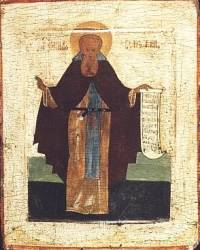 Troparion of St. Cyril of the White Lake Tone 1
O Father Cyril, uprooting the thorns of passions/ thou didst blossom as a lily in David's wilderness,/ where thou didst gather a multitude of disciples/ and guide them as a father in the fear of God./ Glory to Him Who has strengthened thee; glory to Him Who has crowned thee;/ glory to Him Who through thee works healings for all.
Troparion of St. Colum Cille Tone 5
By thy God-inspired life/ thou didst embody both the mission and the dispersion of the Church,/ most glorious Father Colum Cille./ Using thy repentance and voluntary exile,/ Christ our God raised thee up as a beacon of the True Faith,/ an Apostle to the heathen and an indicator of the Way of salvation./ Wherefore O holy one, cease not to intercede for us/ that our souls may be saved.
Kontakion of St. Cyril of Alexandria Tone 6
Thy teaching has reached to the ends of the earth./ For from the wellsprings of the Savior, O blessed one,/ thou hast poured forth a flood of doctrine/ which engulfs all heresies.
Kontakion of St. Cyril of the White Lake
Tone 8
Thou didst scorn all ways and thoughts which dragged thee down/ and didst rejoice to yearn for the heavenward course./ With the Saints before the Trinity pray that thy flock may be preserved;/ for as we celebrate thy repose we cry to thee:/ Rejoice, O blessed Father Cyril.
---
---
Back to Menologia