The Twenty-Sixth Day of the Month of June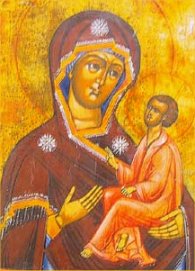 Troparion of the Icon Tone 4
Thine Icon, O Mother of God, shines from heaven like a brilliant sun./ It illumines the world with rays of mercy which we reverently receive as God's gift./ We glorify thee as Queen of all,/ and magnify Christ our God Whom thou didst bear./ Pray to Christ, O Mother of God our Lady and Queen,/ to keep all Christians unharmed by the enemy./ Save those who faithfully venerate His Image and thy pure Icon, O Virgin.


Troparion of St. David of Thessalonica Tone 5
O David,/ thy love for God the Word gave thee wings/ and thou didst live an angelic life in a tree./ Thou didst produce for us fruits of grace/ and we partake of them spiritually,/ crying to thee with faith:/ Pray for us to Christ our God to grant us His great mercy.
Troparion of St. Brannock of Braunton Tone l
Righteous tutor of the children of Brychan and great wonderworker, O Father Brannock,/ thou didst win many souls for Christ by thy tireless endeavours./ As Braunton's church may yet hold thy precious relics,/ pray that we, being ever mindful of our Orthodox heritage,/ may never deviate from the true Faith,/ and, thereby, receive the reward of the blest.
Kontakion of the Icon Tone 8
Let us thank Christ our God, and run to the Virgin and Queen His Mother; / tenderly gazing on her miraculous icon let us fall down and cry:/ Thou hast visited this land by the appearance of thine icon:/ keep our people in peace and make them heirs of heaven;/ for we cry with faith: Rejoice, O Virgin, salvation of the world.
Kontakion of St. David of Thessalonica Tone 2
We bless thee, O David, servant of God;/ thou art like the Angels and estranged from things earthly./ Thou dost now rejoice in divine gifts:/ grant us to share in them also,/ O holy and righteous Father.
---
---
Back to Menologia