The Ninth Day of the Month of February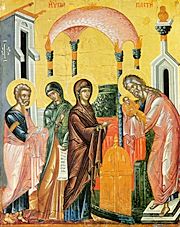 Troparion of the Feast Tone 1
Rejoice, thou who art full of grace,/ Mother of God and Virgin,/ for from thee arose the Sun of Righteousness, Christ our God,/ to give light to those in darkness./ Rejoice thou also, righteous Elder, who didst take in thine arms the Redeemer of our souls,/ Who also gives us the grace of resurrection.
Troparion of St. Nikephoros Tone 1
Love for the Creator enlightened thy soul/ enabling thee to fulfill the law of grace, O Nikephoros./ Thou didst love thy neighbor as thyself, win the contest, and destroy the serpent./ Wherefore ever preserve us in peace.
Troparion of St. Teilo Tone 4
As a fountain of the true Faith,/ thou didst issue forth the life-giving waters of salvation, O Hierarch Teilo./ Wherefore, we implore thee,/ intercede with Christ our God/ that our souls may be saved.
Kontakion of the Feast Tone 1
Thou Who didst sanctify the Virgin's womb by Thy birth/ and bless Symeon's hands as was fitting/ hast now come to us and saved us, O Christ our God./ But grant peace in the midst of wars to Thy community,/ and strengthen the Church which Thou hast loved,/ O only Lover of mankind.
Kontakion of St. Teilo Tone 1
O teacher of pure doctrine, joy of monastics/ and Dewi Sant's fellow pilgrim to Jerusalem,/ where thou wast elevated to the episcopate, most pious Father Teilo,/ we keep festival in thy honour, praying for grace to follow in thy footsteps.
Kontakion of St. Nikephoros Tone 1
Bound with chains of love, O Nikephoros,/ thou didst disarm the malice of hatred./ And when thou wast beheaded thou didst become a holy martyr of the Incarnate Saviour./ Pray to Him for us who extol thy glorious memory.
---
---
Back to Menologia