The Fifth Day of the Month of February
Troparion of the Feast Tone 1
Rejoice, thou who art full of grace,/ Mother of God and Virgin,/ for from thee arose the Sun of Righteousness, Christ our God,/ to give light to those in darkness./ Rejoice thou also, righteous Elder, who didst take in thine arms the Redeemer of our souls,/ Who also gives us the grace of resurrection.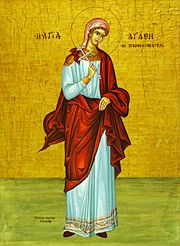 Troparion of St. Agatha Tone 3
Thou wast a fragrant flower of virginity/ and an undefiled bride of the Lifegiver;/ thou didst desire the Source of all good and excel in martyrdom./ O glorious Agatha,/ intercede by thy holy prayers for those who lovingly honour thy contest.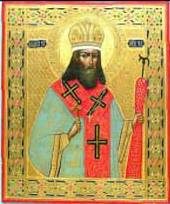 Troparion of St. Theodosi of Chernigov Tone 4
O holy Hierarch Theodosi,/ thou wast found to be most worthy among bishops/ and a light to thy flock/ when translated to eternal mansions./ Pray at the throne of the King of glory/ that we may be delivered from all present evils,/ that our souls may be saved by thy prayers.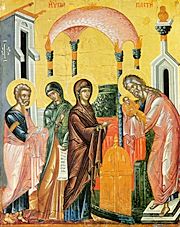 Kontakion of the Feast Tone 1
Thou Who didst sanctify the Virgin's womb by Thy birth/ and bless Symeon's hands as was fitting/ hast now come to us and saved us, O Christ our God./ But grant peace in the midst of wars to Thy community,/ and strengthen the Church which Thou hast loved,/ O only Lover of mankind.
Kontakion of St. Agatha Tone 4
Let the Church be arrayed today in glorious purple/ dyed with the chaste blood of the Martyr Agatha,/ and let us cry: Rejoice, thou boast of Catania.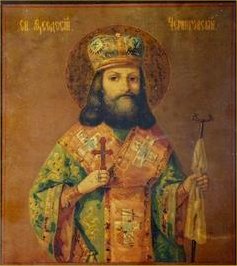 Kontakion of St. Theodosi Tone 4
O holy Hierarch Theodosi, thou didst labour for Christ/ by grazing thy rational sheep on spiritual pastures;/ thou didst receive the gift of healing from Christ the Saviour/ to cure all who come to thy relics/ from bodily and spiritual infirmities./ Pray for those who call on thy name,/ that our souls may be saved from the enemy.

Life of St. Agatha (Golden Legend)
St Agatha (DMOZ)
Prologue From Ochrid by St Nikolai Velimirovich