The Fourth Day of the Month of February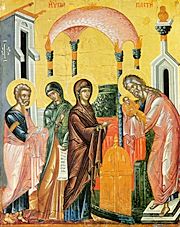 Troparion of the Feast Tone 1
Rejoice, thou who art full of grace,/ Mother of God and Virgin,/ for from thee arose the Sun of Righteousness, Christ our God,/ to give light to those in darkness./ Rejoice thou also, righteous Elder, who didst take in thine arms the Redeemer of our souls,/ Who also gives us the grace of resurrection.
Troparion of St. Isidore Tone 4
In thy wisdom thou didst gloriously adorn the Church of Christ/ with thy many homilies, O righteous Isidore,/ thou wast purified by abstinence, deed and divine vision/ and didst shine forth in the world./ Through thy words, O Father, we are guided and initiated into a more excellent life.
Troparion of St. Aldate Tone 1
Through thy pious upbringing thou didst become a shining beacon of the Orthodox Faith,/ O Hierarch Aldate./ Wherefore, O Saint, intercede for us that not straying from the true Faith,/ we may attain eternal salvation.
Kontakion of the Feast Tone 1
Thou Who didst sanctify the Virgin's womb by Thy birth/ and bless Symeon's hands as was fitting/ hast now come to us and saved us, O Christ our God./ But grant peace in the midst of wars to Thy community,/ and strengthen the Church which Thou hast loved,/ O only Lover of mankind.
Kontakion of St. Isidore Tone 4
O Isidore, thou wast another morning star,/ and the Church is illumined by the brilliance of thy words./ She cries out to thee: Rejoice, O divinely wise and blessed Isidore.
Kontakion of St. Aldate Tone 2
As a torch of truth, a tower of strength,/ a bastion of Faith, O Martyr Hierarch Aldate,/ thou art the adornment of Gloucester,/ the joy of all our nation and most worthy of all praise.
---
---
Back to Menologia