The Second Day of the Month of February
Heb. 7:7-17; Luke 2:22-40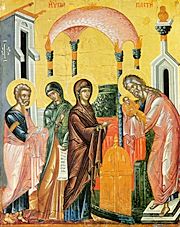 Troparion of the Meeting Tone 1
Rejoice, thou who art full of grace,/ Mother of God and Virgin,/ for from thee arose the Sun of Righteousness, Christ our God,/ to give light to those in darkness./ Rejoice thou also, righteous Elder, who didst take in thine arms the Redeemer of our souls,/ Who also gives us the grace of resurrection.


Troparion of St. Ronan Tone 4
As one endowed with the beauty of speech,/ thou didst Preach Christ's saving Gospel to the inhabitants of Man, O Hierarch Ronan./ Wherefore O Saint, being mindful of the power of words,/ pray that our every utterance may be to the glory of God/ that at the end He will grant us great mercy.

Kontakion of the Meeting Tone 1
Thou Who didst sanctify the Virgin's womb by Thy birth/ and bless Symeon's hands as was fitting/ hast now come to us and saved us, O Christ our God./ But grant peace in the midst of wars to Thy community,/ and strengthen the Church which Thou hast loved,/ O only Lover of mankind.


Kontakion of St. Ronan Tone 6
We sing thy praises, O righteous Ronan,/ praying for grace to emulate thee,/ that the example of our lives/ may proclaim the love of God to those around us.

The Presentation, 2, 3 Iconogram
St. Ronan (Catholic Encyclopedia)
Purification of the Blessed Virgin Mary (Anglican Breviary)
The Presentation of Christ (icon by Nicholas Papas)
Presentation of Christ in the Temple 15th c. Novgorod icon
Prologue From Ochrid by St Nikolai Velimirovich