The First Day of the Month of February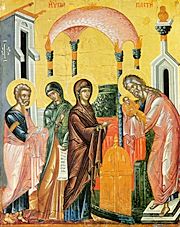 Troparion of the Forefeast
Tone 1
The celestial choir of heavenly Angels looked out upon the earth,/ and saw the Firstborn of all creation as a Babe/ being carried to the Temple by a mother who had never known a man./ Wherefore they sing with us in amazement the prefestival hymn.
Troparion of St Trypho
Tone 3
In the Holy Spirit thou didst pour forth abundant grace/ on the Church like an unfailing fountain;/ thou dost refresh our souls with the delight of thy gifts./ O glorious Trypho,/ entreat Christ our God to grant us His great mercy.
Troparion of St Brigid of Kildare
Tone 1
O holy Brigid, thou didst become sublime through thy humility,/ and didst fly on the wings of thy longing for God./ When thou didst arrive in the Eternal City and appear before thy Divine Spouse,/ wearing the crown of virginity,/ thou didst keep thy promise/ to remember those who have recourse to thee./ Thou dost shower grace upon the world, and dost multiply miracles./ Intercede with Christ our God that He may save our souls.
Troparion of St. Seiriol Tone 4
We hymn thee, O Father Seiriol,/ for thou didst turn the Welsh wilderness into a fertile vineyard for the Lord./ By this our intercession, O Saint,/ we implore thee to pray to Christ our God,/ that our labours may be blessed and our souls may be saved.

Kontakion of the Forefeast
Tone 6
The Word Who is invisibly with the Father/ is now ineffably born of the Virgin and is seen in the flesh,/ and is placed in the arms of the holy Elder./ Let us worship Him, our true God.
Kontakion of St Trypho
Tone 8
In the power of the Trinity thou didst destroy polytheism throughout the world, O Trypho,/ for thou wast honoured by the Lord./ Thou didst conquer tyrants through Christ the Saviour,/ and didst receive the crown of martyrdom/ and gifts to work healings since thou art invincible.
Kontakion of St Brigid
Tone 4
The holy virgin Brigid full of divine wisdom,/ went with joy along the way of evangelical childhood,/ and with the grace of God/ attained in this way the summit of virtue./ Wherefore she now bestows blessings upon those who come to her with faith./ O holy Virgin, intercede with Christ our God/ that He may have mercy on our souls.
Kontakion of St. Seiriol Tone 2
Thy radiant memory illuminates the ages, O holy Seiriol,/ defying the darkness of apostacy and error./ May The Second Day once more dawn when all Wales will confess the Faith of our Fathers/ and keep festival to honour thee.

St. Seiriol Gwyn (Born c.AD 494) (Latin: Serialanus; English: Serial)
Prologue From Ochrid by St Nikolai Velimirovich