The Nineteenth Day of the Month of February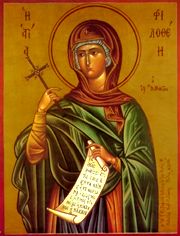 Troparion of St. Philothea Tone 5
Let us honour the boast of the city of the Athenians,/ Philothea the righteous martyr./ Let us embrace and kiss her holy relics./ She lived in holiness and exchanged this fleeting life for the eternal/ by her contest and martyrdom./ She is praying the Savior to grant us His great mercy.
Troparion of St. Odran Tone 5
No task was too humble or too dangerous for thee,/ O Martyr Odran,/ for in thy station as a servant/ thou didst render the ultimate service/ giving thy life for thy master and Ireland's Enlightener./ Pray that we may have the courage to hold nothing back,/ that at the last Christ our God will not withhold His mercy from us.
Kontakion of St. Archippos Tone 4
The Church has thee as a great star, O Archippos,/ and enlightened by the rays of thy miracles she cries out to thee:/ Save those who faithfully honour thy memory.
Kontakion of St. Philothea Tone 3
Today we joyfully honour Philothea/ and reverently venerate her relics./ She spent her days in blessed works/ and her life was crowned with martyrdom./ She prays that all may be granted eternal life.
Kontakion of St. Odran Tone 3
We salute thee, O Martyr Odran,/ ever seeking to follow thee in service to Christ's holy Church/ and praying for grace to shun the imperfect way of Ananias and Sophia,/ that we may give all we have in selfless devotion/ to Him Who holds all creation in His hands.
---
---
Back to Menologia