The Seventeenth Day of the Month of February
Troparion of St. Theodore the Tyro Tone 2
Great are the achievements of faith!/ In the fountain of flame as in refreshing water,/ the holy Martyr Theodore rejoiced./ He was made a whole burnt offering in the fire/ and was offered as bread to the Trinity./ By his prayers, O Christ our God, save our souls.
Troparion of St. Theodore the Byzantine Tone 1
Thou wast offered to God as a precious gift through thy labours in conflict,/ and didst become a blameless and acceptable offering./ O blessed Theodore, we lovingly gather to praise thy struggles;/ we give glory to God who has strengthened thee,/ O much-afflicted one, against all thine enemies,/ visible and invisible.
Troparion of St. Finan Tone 2
As Aidan's successor thou didst rule the See of Lindisfarne fearlessly/ preaching the Orthodox Faith, O holy Hierarch Finan./ Boldly obeying the Gospel command,/ thou didst soften the stony heart of Mercia's pagan Prince Peada/ and win his soul for Christ./ Pray for us, O Saint, that Christ alone will rule in our hearts,/ that He may save our souls.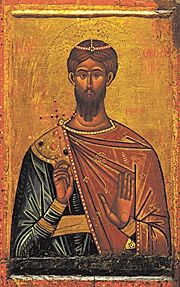 Kontakion of St. Theodore the Tyro Tone 8
Thou didst receive the Faith of Christ in thy heart as a breastplate/ and trample upon the enemy hosts, O great Champion./ Thou hast been crowned with a heavenly, eternal crown, for thou art invincible.
Kontakion of St. Theodore the Byzantine Tone 4
Thy contest has arisen like a bright morning star/ and has inspired us to glorify Christ./ He has shown thee forth as one steadfast in struggle, O Martyr Theodore.
Kontakion of St. Finan Tone 6
Great Hierarch of the Christian North/ and radiant luminary of the Orthodox Faith, O Hierarch Finan,/ by thy preaching to all nations/ the warlike Mercians were illumined by the light of Christ's holy Gospel./ As we keep festival in thy honour/ we pray for grace to emulate thy righteous example.
---
---
Back to Menologia