The Twelfth Day of the Month of February
Troparion of St. Meletios Tone 3
Thou didst shine on the Church with thy heavenly knowledge,/ O righteous Hierarch Meletios, wise in the law;/ thou didst preach the equal honour of the Persons of the Trinity/ and disperse the assembly of heretics./ Entreat Christ our God to grant us His great mercy.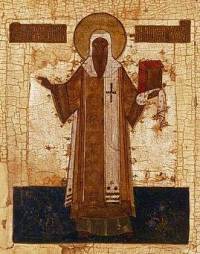 Troparion of St. Alexis the Wonderworker Tone 4
We glorify God with fitting praises/ as we celebrate the memory of the guardian of apostolic dogmas,/ the shepherd and teacher, the blessed and holy Hierarch Alexis:/ for God has given us His servant who pours forth healings like a gushing spring/ and is the praise and support of Moscow.
Kontakion of St. Meletios Tone 2
All-blessed Meletios, adorned with Orthodoxy in thy life,/ thou wast a protector and guardian of the Church./ Thy doctrine shines like a fiery beacon even to the ends of the world,/ O most radiant light of the Church.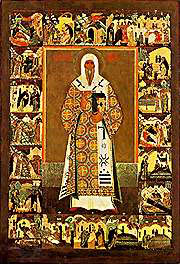 Kontakion of St. Alexis the Wonderworker Tone 8
All you people who faithfully sing to Christ's divine, most holy Hierarch and new wonderworker Alexis,/ let us greet him with love as a great shepherd and minister, as a most wise teacher of Russia./ Let us who are gathered today in his memory joyously cry out in song:/ In thy boldness before God deliver us from affliction,/ that we may cry to thee: Rejoice, support of Moscow.
---
---
Back to Menologia