The Ninth Day of the Month of November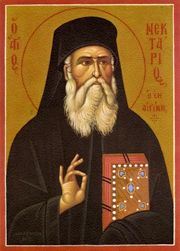 Troparion of St. Nektarios Tone 1
Let us the faithful honour Nektarios,/ offspring of Silyvria and guardian of Aegina,/ who has appeared in latter years, a true friend of virtue, as a God-filled servant of Christ./ For he dispenses all manner of healing to those who with reverence cry out:/Glory to Christ Who has glorified thee; glory to Him Who has worked wonders in thee:/ glory to Him who through thee has wrought healing for all.
Troparion of Ss Onesiphorus and Porphyrius Tone 3
You sought the delights of heaven/ and became martyrs of the Lord,/ O renowned Onesiphorus and Porphyrius./ Wherefore you drove God's golden chariot on the heavenly course./ O divine Martyrs, entreat Christ our God to grant us His great mercy.
Troparion of St. Benen Tone 1
O best loved disciple and successor of Ireland's Enlightener,/ thy God-blessed witness for our saving faith is sorely needed,/ most reverend Hierarch Benen. Entreat Christ our God that He will raise up new disciples/ to bring thy native land out of this present ''Dark Age''/ and restore it to the True Light of Orthodoxy/ for the salvation of men's souls.
Troparion of St. Pabo Tone 8
Revered "Pillar of Northern Britain" and Light of Monastics, O Father Pabo,/ leaving thy family and homeland, thou didst inspire us, O holy one,/ to respect the monastic virtues which attain to the salvation of souls.
Kontakion of St. Nektarios Tone 8
Let us sing praises with gladness of heart to the newly shining star of Orthodoxy,/ to the newly-built bastion of the Church./ For being glorified by the power of the Spirit, he pours out the immortal grace of healing/ to those who cry out: Father Nektarios, rejoice!
Kontakion of Ss Onesiphorus and Porphyrius Tone 2
The glorious martyrs Onesiphorus and Porphyrius together contested valiantly./ They humbled the enemy's arrogance to the earth/ and shone with the grace of the uncreated Trinity./ Together with the Angels they now intercede for us all.
---
---
Back to Menologia