The Twenty-Seventh Day of the Month of November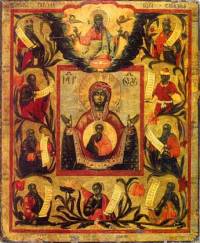 Troparion of the Mother of God of Kursk Tone 4
Thou art an impregnable wall and a source of miracles/ enabling us to subdue enemy attacks, O Mother of God./ Wherefore we pray thee, grant peace to the world and great mercy to our souls.
Troparion of Great Martyr James of Persia Tone 4
James the Martyr and scion of Persia/ drowned the dragon in his blood by his contest:/ he was dismembered for the Faith/ and became the Saviour's trophy-bearer./ He intercedes unceasingly for our souls.
Troparion of St. James, Bishop of Rostov Tone 4
Thou wast chosen of God from thy youth,/ and didst become a Hierarch shepherding God's people./ Wherefore after thy decease/ thou didst receive the gift of wonderworking to heal infirmities./ O Hierarch James, pray that we may magnify thee unceasingly.
Troparion of St. Seachnall Tone 1
Today we hymn thee, O Hierarch Seachnall,/ for as thou in thy piety didst compose the praises of our Father Patrick,/ pray to God for us that we may, with true piety, honour our saints./ And in praising this glorious company may we be worthy of their prayers and the great mercy of Christ our God.
Kontakion of the Mother of God of Kursk Tone 8
We celebrate the venerable Icon of the Sign, most holy Mother of God,/ whereby thou didst grant thy city a wonderful victory over its enemies./ Wherefore we cry to thee with faith: Rejoice, O Virgin, thou boast of Christians.
Kontakion of Great Martyr James of Persia Tone 2
Thou didst listen to thy wife and consider the judgment/ O courageous James./ Thou didst spurn the threats and commands of the Persians/ and thy body was pruned like a vine./ We praise thee; O noble Martyr.
Kontakion of St. James, Bishop of Rostov Tone 8
Thou wast a champion among bishops and of one rank with the Hierarchs, O holy James./ Preserve thy city, thy fatherland and people who honour thee and venerate thy sacred relics,/ that with one accord we may cry to thee: Rejoice, O Hierarch James.
---
---
Back to Menologia