The Twenty-Fifth Day of the Month of November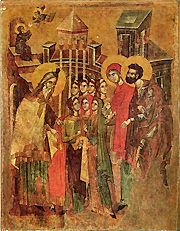 Troparion of the Mother of God Tone 4
Today is the prelude of God's goodwill/ and the prophecy of the salvation of men./ The Virgin appears openly in the temple of God/ and foretells Christ to all./ So let us cry to her with loud voices:/ Rejoice, thou who art the fulfillment/ of the Creator's providence.
Troparion of Great Martyr Katherine Tone 5
Let us praise Katherine, protectress of Sinai,/ Bride of Christ and our helper./ With the sword of the Spirit she silenced the wisdom of the wicked./ She is crowned as a martyr and asks mercy for us all.
Troparion of Great Martyr Mercurius Tone 4
Partaker of heavenly light,/ an Angel was thy guide to manifest glory./ Thou didst contest as a warrior for the Immortal King:/ O blessed Mercurius,/ save those who come to thee.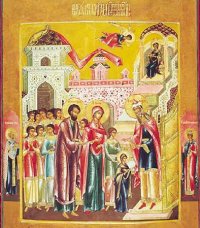 Kontakion of the Feast Tone 4
The most pure Temple of the Saviour,/ the most precious bridal chamber and Virgin,/ the sacred treasury of the glories of God,/ today enters into the house of the Lord,/ bringing with her the grace that is the Divine Spirit./ And the Angels of God sing of her:/ This is the heavenly tabernacle.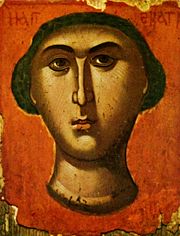 Kontakion of Great Martyr Katherine Tone 2
You lovers of martyrs raise a chorus now/ in honour of wise Katherine./ She preached Christ in the stadium/ and spat on the knowledge of philosophers.
Kontakion of Great Martyr Mercurius Tone 4
Putting on Christ's might as a holy breastplate/ thou didst excel as an Athlete and dost enlighten those who cry:/ Rejoice, O Mercurius: thou art the glory of the martyrs.
---
---
Back to Menologia