The Thirteenth Day of the Month of November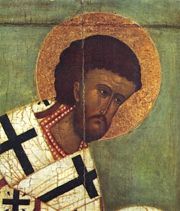 Troparion of St. John Chrysostom Tone 8
Grace like a flame shining forth from thy mouth has illumined the universe,/ and disclosed to the world treasures of poverty and shown us the height of humility./ And as by thine own words thou teachest us, Father John Chrysostom,/ so intercede with the Word, Christ our God, to save our souls.
Troparion of St. Denick Tone 1
Inspired by the virtuous example/ of our Fathers Columba and Machar,/ O Hierarch Denick, thou didst preach among the heathens of Caithness/ enduring great hardships, despite old age and infirmity./ Wherefore, O Saint, pray that worthless and useless as we are,/ Christ our God will grant us great mercy.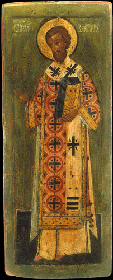 Kontakion of St. John Chrysostom Tone 2
Thou hast received divine grace from heaven,/ and with thy lips thou dost teach all men to adore the one God in Three Persons./ O John Chrysostom, most blessed Saint,/ we rightly praise thee;/ for thou art our teacher, revealing things divine.
---
---
Back to Menologia