The Twenty-Fourth Day of the Month of October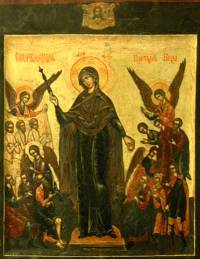 Troparion of the Icon "Joy of all that Sorrow" Tone 4
Let us, sinful and humbled, now earnestly run to the Mother of God,/ and let us fall down in repentance,/ crying from the depths of our soul:/ O Lady, help, have compassion on us./ Make haste, for we perish from the multitude of our sins./ Turn not thy servants empty away,/ for we have thee as our only hope.
Another Troparion of the Icon "Joy of all that Sorrow" Tone 2
Thou art the joy of all that sorrow/ and the protectoress of the oppressed,/ feeder of the hungry, consolation of travelers,/ haven for the tempest-tossed, visitation of the sick,/ protection and aid of the infirm, staff of old age,/ O all-pure Mother of the Most High God./ Hasten, we pray, to save thy servants.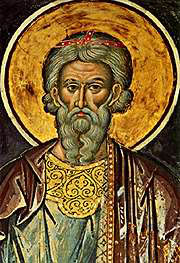 Troparion of St. Arethas and his fellow Martyrs Tone 1
Thou didst live piously and wast glorified in contest,/ and didst triumph over Christ's enemies./ Thou didst bring Him a company of martyrs,/ O blessed Arethas./ Glory to Him Who has strengthened thee; glory to Him Who has crowned thee;/ glory to Him Who through thee works healings for all.
Troparion of St. Cadfarch Tone 8
Brother and companion of saints, O Father Cadfarch,/ thou art truly numbered among the Righteous of the Age of Saints./ Wherefore intercede for us, weak as we are,/ that Christ our God will grant us great mercy.
Troparion of St. Maelor Tone 8
At the bidding of our Father Samson thou didst leave thy native Wales/ to serve God in Lammeur's Monastery, O Father Maelor./ Having pleased God with the sweet fragrance of monastic struggle,/ thou didst grace the island of Sark with thy godly repose./ Pray to God for us, O blessed one, that He will spare us/ from sudden and unprepared death and grant salvation to our souls.
Kontakion of the Icon ''Joy of all that Sorrow" Tone 6
We have no other help, we have no other hope,/ apart from thee, O Lady:/ help us. we hope in thee and in thee we glory./ Let us not be confounded for we are thy servants.
Kontakion of St. Arethas and his fellow Martyrs Tone 4
The radiant feast of the victorious Martyrs/ comes today as an occasion of gladness./ As we celebrate it we glorify the Lord on high.
---
---
Back to Menologia