The Twentieth Day of the Month of January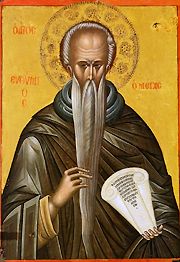 Troparion of St. Euthymios Tone 4
Rejoice, O desert that has not given birth,/ be glad, thou who hast not travailed./ For a man of desires has multiplied thy children of the Spirit;/ he has planted them in piety and reared them on continence to the perfection of virtues./ By his prayers, O Christ our God, save our souls.
Troparion of St. Fechin Tone 3
Thy God-pleasing life, O Father Fechin,/ is an inspiration in our spiritual struggles./ As thou didst guide souls to Christ in the abbey of Fore,/ cease not to intercede for all who call upon thy name,/ that our souls may be saved.
Kontakion of St. Euthymios Tone 8
In thine august birth creation found joy,/ and in thy divine memory it receives the gladness of thy miracles./ Grant these richly to our souls, O Euthymios,/ and cleanse the stains of our sins that we may sing: Alleluia.
Kontakion of St. Fechin Tone 6
Uprooting the tangled weeds of passion, O Father Fechin,/ thou didst cause the wilderness to blossom as a spiritual Eden./ Pray that we too may be found worthy of the fruits of the Spirit as we cry:/ Glory to Him Who has blessed thee,/ glory to Him Who didst teach thee the Orthodox Faith,/ glory to Him Who brings men to salvation through thy prayers.
---
---
Back to Menologia